Jean CHEVOLLEAU (
1924-1996

)

Born in 1924 in the town of La Roche-sur-Yon (south-west France), Jean Chevolleau spent his childhood and teenage years in Fontenay-le-Comte in the Vendée, close to the marshlands. The waterways, sandy creeks and flat-bottomed boats along the renowned Marais Poitevin were never far from his mind when he set out on a career in the designer arts.

In 1946, Jean Chevolleau left the Vendée for Paris where he studied at the Ecole Nationale Supérieure des Beaux Arts at the Souverbie studio. At the same time he attended the Ateliers Jaudon and Lemagny to learn the art of engraving and also frequented the Atelier Othon Friesz at the Grande Chaumière.

In 1948, he received his Art Teacher's certificate from the city of Paris, a career he gave up in 1960 to devote himself entirely to painting. His encounter in the early 1950s with the restaurateur, art enthusiast and arts patron Camille Renault (known as 'Big Boy') was decisive. It meant he was able to exhibit regularly in Renault's highly rated restaurant in Puteaux. It was there that he was spotted by one of the masters of post-cubism, Jacques Villon, who invited him to his studio to rub shoulders with already well known painters such as La Fresnaye, Kupka, Léger, Estève, Picabia, Pignon, André Lhote and Manessier. This group of artists known as the "Groupe de Puteaux" marked the man and his work for life.

Describing the young painter in 1957 in a preface to the Chevolleau exhibition in Los Angeles, Jacques Villon wrote: "Well ordered, with great rhythm… sustained by highly assertive layers of colour, the paintings of Jean Chevolleau are strong works and, despite everything, show very great sensitivity where nothing is left to chance. This is the work of a fine artist."

The movement of the "Groupe de Puteaux" was based on the re-discovery of fauvism and cubism with emphasis on synthesizing the two. Buoyed by everything he learned from J. Villon, Jean Chevolleau instinctively felt attached and defined himself in relation to this school and movement. 
When asked to define his painting, he replied:

«Figurative, without a second thought. I don't deny a certain ambiguity, it lies at the roots of every creator's approach to his work. But there you are… that is exactly what interests me… exploring the infinite wealth of the space between figuration and abstraction.»
The 1960s were a true turning point. Jean Chevolleau broke free from drawing as his palette became enriched with pastel tones. His subjects were more diluted, more abstract, a little fainter. At the same time there appeared this acute sense of composition, of solid architecture that so clearly characterizes the portraits of the harbours in La Rochelle or Peniscola in Spain.
"I am so very taken by geometry, I attach the greatest interest to the construction of a painting. Colour will come in as if inscribed in a precise drawing, giving that jig-saw puzzle impression you see in some of my compositions," explained the artist, adding that "my first concern is to construct and re-construct."
Blue was always to be a favourite colour for this man who loved the sky and sea. He developed his shades of blue with rare intensity. But the exciting palette of Jean Chevolleau also included a wealth of other tones made up of greens, greys, yellows, reds, pastel ochre and tawny browns…
In 1975, after 30 years spent at his Paris studio, he returned to Fontenay-le-Comte, where he spent most of the rest of his life. Inspired by his native region, he painted tirelessly. His work and scope became richer and more self-asserted.
Jean Chevolleau worked in themes: marshlands, rugged coastlines, harbours, horses, still life paintings and nudes… plus a number of other portraits inspired by his stays in Spain (olive groves, streets, sierras, Toledo) and his penchant for religious themes (the crucifixion, Golgotha…). 
Claiming to be a craftsman of painting, his production was prolific. The glaring light of La Rochelle and Ile d'Yeu, the mussel beds and marshlands were featured in hundreds of paintings. He also produced monumental paintings for public buildings in the town of Fontenay-le-Comte, stain-glass windows for four churches, non-leaded stain-glass windows (winning an international award in 1960) and three tapestry cartoons for the Manufacture Saint Jean-Aubusson. 
The painting of Jean Chevolleau? Most definitely the joy of colour inherited from fauvism, the key role he gave to drawing, and sobriety shorn of extravagant gestures or virtuoso acrobatics. 
He passed away in 1996. His beautiful house overlooking the Vendée countryside – a childhood dream – was acquired by the town of Fontenay-le-Comte and each year welcomes residential artists.
Awards & Distinctions

1956
First silver medal, "Prix du Palais Royal", Paris. Prix de Peinture L. Moreau, L'Isle Adam.
1958
Sélection du Prix Pacquement – Musée d'Art Moderne.
1960
Prix International du Gemmail – Paris
1965
Silver Medal from the town of Puteaux.
1979
Appointed Ordre de Chevallier des Arts et des Lettres.
1987
Appointed Ordre de Chevallier des Palmes Académiques.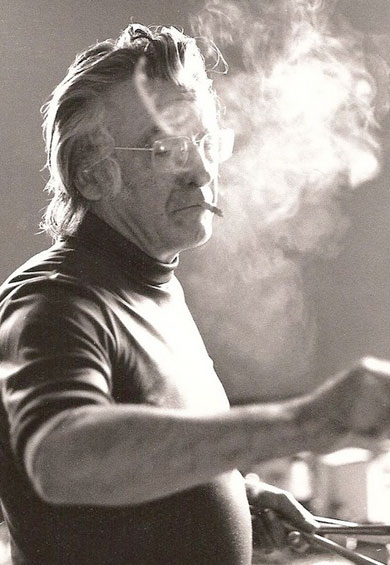 Biographie Sélective
1924

November 18, the birth of Jean Chevolleau in La Roche-sur-Yon (Vendée). Childhood and teenage years spent between La Roche-sur-Yon and Fontenay-le-Comte, which became his home in 1934.

1934

Elementary schooling at the Ecole des Frères and Ecole des Cordeliers – Fontenay-le-Comte.

1942

Secondary schooling at the Lycée François Viète, Fontenay-le-Comte.

1946 à 1950

Student at the Ecole Nationale Supérieure des Beaux Arts de Paris at the Ateliers Jaudon & Lemagny for engraving. Also the atelier Othon Friesz at the Grande Chaumière.

1948

Graduated as a Teacher of Art in the city of Paris, where he was to stay for thirty years. He frequented the "Groupe de Puteaux" and met Jacques Villon and Camille Renault…

Fréquente la section d'or et le "groupe de Puteaux" et rencontre Jacques Villon, Camille Renault…

1965

He discovered Spain and in particular the small fishing town of Peniscola.

1975

Returned to Fontenay-le-Comte and his house on rue des Halles.

1996

November 20, the death of Jean Chevolleau.
"La Maison Chevolleau" is still a place of residence for artists and each year hosts the "Parcours Contemporain" organized by the town.